Introduction
The Low Emission Zone in Steiermark covers a large part of the Steiermark area.
Some of the larger towns included are: Bruck an der Mur, Deutschlandsberg, Feldbach, Fürstenfeld, Graz, Hartberg, Leibnitz, Leoben, Murtal, Mürzzuschlag, Radkersburg, Voitsberg and Weiz, but many more areas around are also included. A map and a full list of towns is given below.

Dates & Times
Until 1st January 2013: Euro 1

From 1st January 2013: Euro 2

From 1st January 2014: Euro 3

Vehicles affected
Lorries

What is the LEZ boundary
The LEZ is in operation in the four air quality management areas in Steiermark [Styria Province], as shown on the map and listed below.



Key:
red = LEZ.

See here for more details.



Need to Register?
no

Is retrofitting allowed?
Yes

Retrofit Details
Vehicles must meet the PM and NOx emissions standards with retrofitting. Proof must be carried, in the form of registration with the authorities.

Hours of operation
Permanent, 365 days a year.

Enforcement
Manual enforcement by police

Exemptions
Special vehicles with expensive bodywork, showman's vehicles, historic lorries, tractor-trailer lorries [Sattelkraftfahrzeuge] and equipment as per the vehicle law 1967, BGBl. Nr. 267/1967 and the most recent version BGBl. I Nr. 116/2010.

National Scheme
Yes, there is a national scheme with differently coloured stickers from 1st January 2015 on. Momentarily it is only executed in Vienna. The stickers can be purchased here for 2,50 €. They are also distributed at certain repair garages and some ÖAMTC offices, see here.

If you need the Austrian Euro sticker and you live outside of Austria, contact one of these workshops on the list and send your car papers. You will get the sticker by mail.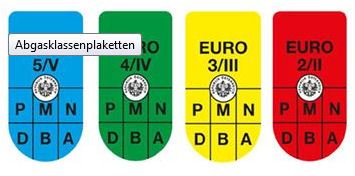 Local name for the scheme
Umweltzone / Fahrverbot / Stmk. Luftreinhalteverordnung 2011

Further Information
Ordinance
For lorry drivers there is this useful website to find out where you can drive (in German).