Introduction
The new Norwegian legislation allows all kinds of measures to reduce PM and NO2. Norway has a congestion charging scheme for studded tyre use in cities. Bergen and Oslo have already established the scheme, Trondheim and Stavenger will follow. Studded tires are often used in Norway in winter. However, in urban areas, the studded tires damage the street surface and also raise the PM levels.

Dates and details
Oslo
Studded tires season in Oslo is from 1st November to end of March.
If you want to use studded tires in Oslo, you have to pay.
Monthly and seasonal sticker can be bought online and by phone. Stickers for Norwegian, Swedish, Danish and Polish cars can be ordered by SMS here.
There are also vending machines in Oslo where stickers can be purchased.
Map vending machines Oslo

Bergen
The studded tires season in Bergein is from 1st November to end of April.
They can be bought online at Bergen studded tires. There you can also find information on an app to buy the stickers.

Vehicles affected
Vehicles using studded tires during the studded tire season.

Costs
NOK 10 are about 1€.

sticker

price

duration

Daily stickers

kr.

30, -

24 hours

month sticker

kr.

400 -

A call ends month

season sticker

kr.

1200, -

All season
vehicles > 3.5 tonnes pay double price.



Type of restriction
Congestion charge

Alternative transport
Oslo public transport
Bergen public transport

Scheme Boundary
Oslo studded tires scheme: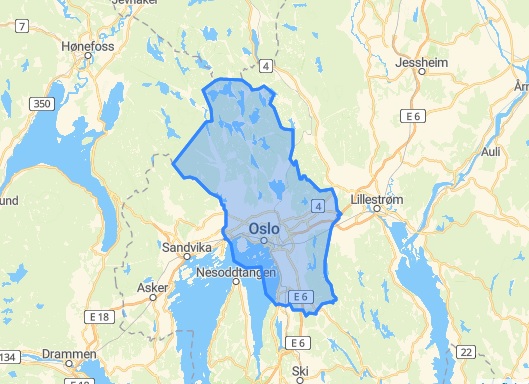 key: orange line is the boundary of the studded tires scheme


Need to Register?
You need to buy a sticker.

Foreign vehicles affected?
Are affected

Retrofitting allowed?
not relevant

Hours of operation
Permanent, 365 days a year.

Enforcement
manual

Penalty
A fine of NOK 750 (= 80€).

National Scheme
yes

Exemptions
These vehicles are exempted:
- handicapped drivers or passengers with a handicap parking permit
- motorcycles
- trailers
- tractors
- emergency vehicles
- police cars
- vehicles fitted with equipment such as ploughs, salt or sand spreaders etc., on duty to maintain roads and streets
- diplomats

Local name for the scheme
Piggdekkgebyr

Further Information
Leaflet studded tires Oslo
If you have questions about the studded tire scheme:

Oslo
Telefon: 23 48 20 30
Email:

This email address is being protected from spambots. You need JavaScript enabled to view it.



Bergen
Neumanns gate 1
Tel.: 55568850
Email:

This email address is being protected from spambots. You need JavaScript enabled to view it.



For Stavanger go to:
Studded tires Oslo

Studded tires Bergen