Introduction
There is also an access regulation in place called Torino - AR and a possible emergency scheme (see below) in high air pollution events.
The first Sunday of the month is 'ecological Sunday'.

Dates and details


The first Sunday of the month is 'ecological Sunday'. No vehicles are allowed to circulate from 10:00 - 18:00.

Central ZTL (1.03 Km2):

Euro 2 for all vehicles

Purely electric vehicles can park in the parking spots with blue lines (Blu-A) for free!

Electric hybrids and bifuel (methane or gpl) vehicles belonging to the categories eligible for the Blu-A permit will be able to obtain it at a 50% discount if they are residents and the vehicle was first registered after 2015.


In addition, throughout the rest of the city:
Diesel Euro 4
Petrol Euro 2.



Emergency scheme Turin until 19 February 2017
PM10

Level

Traffic limitation measures

Permanent limitation

Level 0

White

Minimum standard for private vehicles is Diesel Euro 4 and Petrol, LPG and CNG Euro 2:

Monday to Friday from 08:00 – 19:00 for passenger cars
Monday to Friday from 08:30 – 14:00 and from 16:00 – 19:00 for vehicles delivering goods

=/> 50 mcg / m³ less than 7 consecutive days

Level 1

Yellow

Minimum standard for private vehicles is Diesel Euro 5 and Petrol, LPG and CNG Euro 2:

daily from 08:00 – 19:00 for passenger cars
daily from 08:30 – 14:00 and from 16:00 – 19:00 for vehicles delivering goods

=/> 100 mcg / m³ less than 3 consecutive days

Level 2

Orange

Minimum standard for private vehicles is Diesel Euro 6 and Petrol, LPG and CNG Euro 2:

times see level 1

=/> 150 mcg / m³ less than 3 consecutive days

Level 3

Light red

Minimum standard for private vehicles is Petrol, LPG and CNG Euro 2; Block of all private diesel vehicles:

times see level 1

=/> 180 mcg / m³ less than 3 consecutive days

Level 4

Dark red

Block of all vehicles:

times see level 1
Emergency scheme Turin from 20 February 2017
PM10
location
days
hours
vehicle type
traffic restriction
Permanent limitation
entire city
Monday - Friday
08:00 - 19:00
passenger cars

Petrol, LPG and methane minimum standard Euro 2

Diesel minimum standard Euro 4

Monday - Friday
08:30 - 14:00 and 16:00 - 19:00
vehicles delivering goods

Petrol minimum standard Euro 2

Diesel minimum standard Euro 4

Ecological Sunday
first Sunday of the month
10:00 - 18:00
passenger cars and vehicles delivering goods
all vehicles are banned

Level yellow

7 consecutive days with 50 mcg/m3

daily
08:00 - 19:00
passenger cars

Petrol, LPG and methane minimum standard Euro 2

Diesel minimum standard Euro 6

Monday - Friday
08:30 - 14:00 and 16:00 - 19:00
vehicles delivering goods

Petrol minimum standard Euro 2

Diesel minimum standard Euro 6

Saturday and Sunday
08:30 - 15:00 and 17:00 - 19:00

Level orange

3 consecutive days with 100 mcg/m3

daily
08:00 - 19:00
passenger cars

Petrol, LPG and methane minimum standard Euro 2

all diesel vehicles are banned

Monday - Friday
08:30 - 14:00 and 16:00 - 19:00
vehicles delivering goods

Petrol minimum standard Euro 2

all diesel vehicles are banned

Saturday and Sunday
08:30 - 15:00 and 17:00 - 19:00
Area ZTL
daily
08:00 - 19:00
passenger cars
all vehicles are banned (excluded are vehicles of residents petrol, LPG and methane minimum standard Euro 2)
daily
08:00 - 19:00
vehicles delivering goods
petrol and diesel minimum standard Euro 2
Monday - Friday
08:30 - 14:00 and 16:00 - 19:00

all vehicles with Euro standard <2 and all LPG and methane vehicles are banned

Saturday and Sunday
08:30 - 15:00 and 17:00 - 19:00

Level red

3 consecutive days with 150 mcg/m3

entire city
daily
08:00 - 19:00
passenger cars
all vehicles
Monday - Friday
08:30 - 14:00 and 16:00 - 19:00
vehicles delivering goods


Vehicles affected
Vehicles under 3,5 tonnes, including motorcycles.

Alternative transport
Torino public transport

Scheme Boundary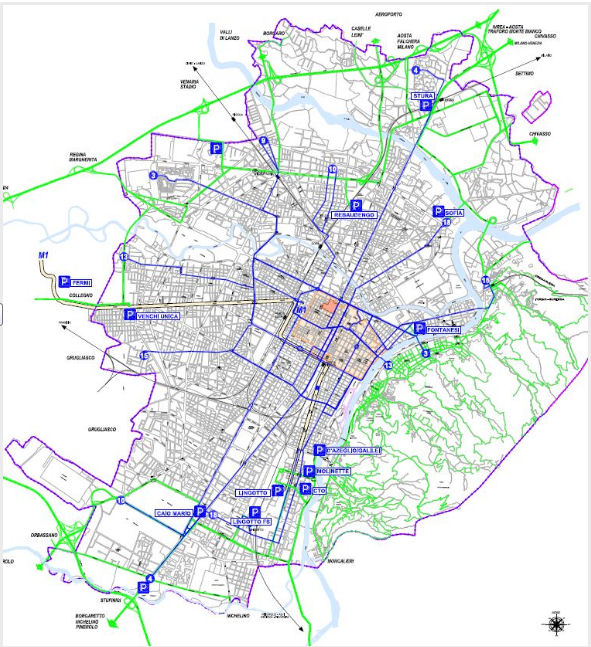 as a larger pdf
Key:
Purple dotted line: LEZ whole city: 08:00 - 19:00
Red dots: electronic entry points
Green line: central LEZ: 07:30 - 10:30
Dashed line: LEZ roman area: permanent
Yellow lines: pedestrian LEZ: permanent
Purple line: LEZ public transport: 07:00 - 20:00

Zoomable map from Turino's website
Torino more detailed map of the actual area

MAP emergency scheme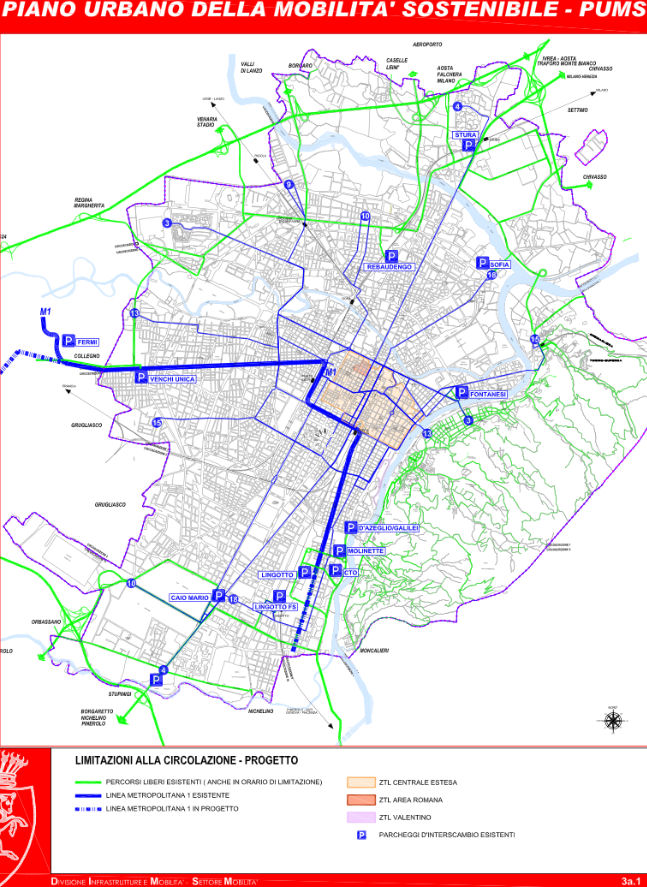 Key: purple line: boundary of the emergency scheme; light green lines: streets access allowed



Road Sign
Has signs similar to this, a banned vehicle sign with the requirements below: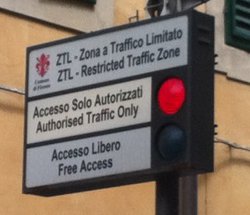 Need to Register?
No

Foreign vehicles affected?
Yes

Retrofitting allowed?
Yes

Retrofit Details
Retrofitting a certified diesel particulate trap allows entry to the LEZ. For more information see our retrofitting section.

Hours of operation
LEZ whole city: 08:00 - 19:00
Residents LEZ whole city: Monday to Friday with Euro standard less than 3: 09:00 - 17:00
Central LEZ: 07:30 - 10:30
LEZ roman area: permanent
Pedestrian LEZ: permanent
LEZ public transport: 07:00 - 20:00

Enforcement
Manual

Penalty
Action under Article. 7, paragraph 13, of Legislative Decree no. 285/92. False declarations are punishable under the Penal Code under Article. 76 D.P.R. 445, 28/12/2000.

National Scheme
There is currently no Italian national scheme, but regional as well as individual city schemes.

Exemptions
Torino/ Turin exemptions
Vehicles exempted in the emergency scheme:
foreign vehicles and those of residents from other Italian regions that have a confirmed hotel booking in the zone. Limited to the route between the hotel and the scheme boundary
electric and hybrid motors
four-stroke motorcycles and mopeds
light goods vehicles <3.5 tonnes (M2, M3)
Buses / minibuses (more than eight seats plus driver's seat)
police, amed forces, fire brigade, rescue services, civil protection
tow truck
dustbin lorries
service vehicles (eg Postal vehicles, Film sets)
taxis
public transport
vehicles over 3.5 tons, construction machinery, agricultural machinery,
3-wheeled vehicles, special vehicles
used for transporting handicapped and those with serious illnesses
social services, doctors, nurses
funeral processions
people who can't reach their workplace with public transport


Delivery
Loading and unloading allowed in
ZTL public transport: 10:30 - 12:30
ZTL Romana: 10:30 - 16:00
ZTL Valentino: Mon. - Fri. from 10:30 - 12:00 and 15:00 - 16:30; Sat. 10:30 - 12:00
ZTL pedestrian: 10:30 - 12:30

Local name for the scheme
Zona a Traffico Limitato (ZTL) or Limitazioni della circolazione, the general name for all access regulation schemes, also used for Low Emission Zones.

Further Information
Piemonte Region, transport page with details of the LEZs
Piemonte Region, air quality page In case the emergency scheme is active:


Information about when the scheme is active is given by radio and street signs.

During episodes of high pollution the citizens are asked to use public transport, bikes, car pooling, electric car sharing, bike sharing (TOBIKE), to walk.



City website
Torino Province website
Turin city website
ZTL permits
ZTL
Numero Verde 800-450.900 (from within Italy)
To find out if the emergency scheme is in place go here.