There are several schemes in Milan:
- the Milan - AR, an access regulation
- and the Milan province, the Low Emission Zones of the four provinces of Milan, Como, Varese and Lecco merge to give a 'paw print' shaped LEZ (see Milan Province).
- the Milan C is a combined Low Emission Zone and urban road charging scheme
- the Milan C now substitutes the Milan ecopass that is no longer in operation.

Dates and Standards

- Region


There are three parts to the LEZs in Lombardia. Permanent LEZs, Winter LEZs and air quality emergency traffic restrictions

Permanent LEZs since 15 October 2011, for all of Lombardia:
- 2-stroke motorcycles and mopeds Euro 1
- Public diesel buses (M3) Euro 3
from Monday to Sunday from 00.00 to 24.00

Winter LEZs from 15 October to 15 April every year in the areas shaded on the map here the LEZ is:
• Petrol Euro 1
• Diesel Euro 3 (or retrofitted to meet Euro 3 particulates)
• Diesel Euro 2
• Two-stroke motorcycles Diesel Euro 2
Monday to Friday from 7.30 to 19.30

In addition to the regional winter LEZ, the whole province requires diesel vehicles to meet Euro 4 standard, or Euro 3 with a certified diesel particulate filter.
- For vehicles transporting people it is in operation from 8:30 to 18:00,
- For vehicles transporting goods it is in operation from 7:30 to 10:00.
Emergency traffic regulationsThe measures can also be tightened to a total ban for vehicles (as from 28.12. - 31.12.2015 from 10am and 4pm). Discounts for public transport were given.
Information on whether the scheme is in operation under Further Information.

Vehicles affected

- Region


All vehicles, including motorcycles.

What is the LEZ boundary

- City


The winter LEZ area covers the 'paw print' area of Milan, Como, Varese and Lecco is shown in the map below
The emergency measures cover Arese, Cassano d'Adda, Limito di Pioltello, Magena, Milano Città Studi, Milano Senato, Milano Verziere, Robecchetto, Trezzo d'Adda, Turbigo.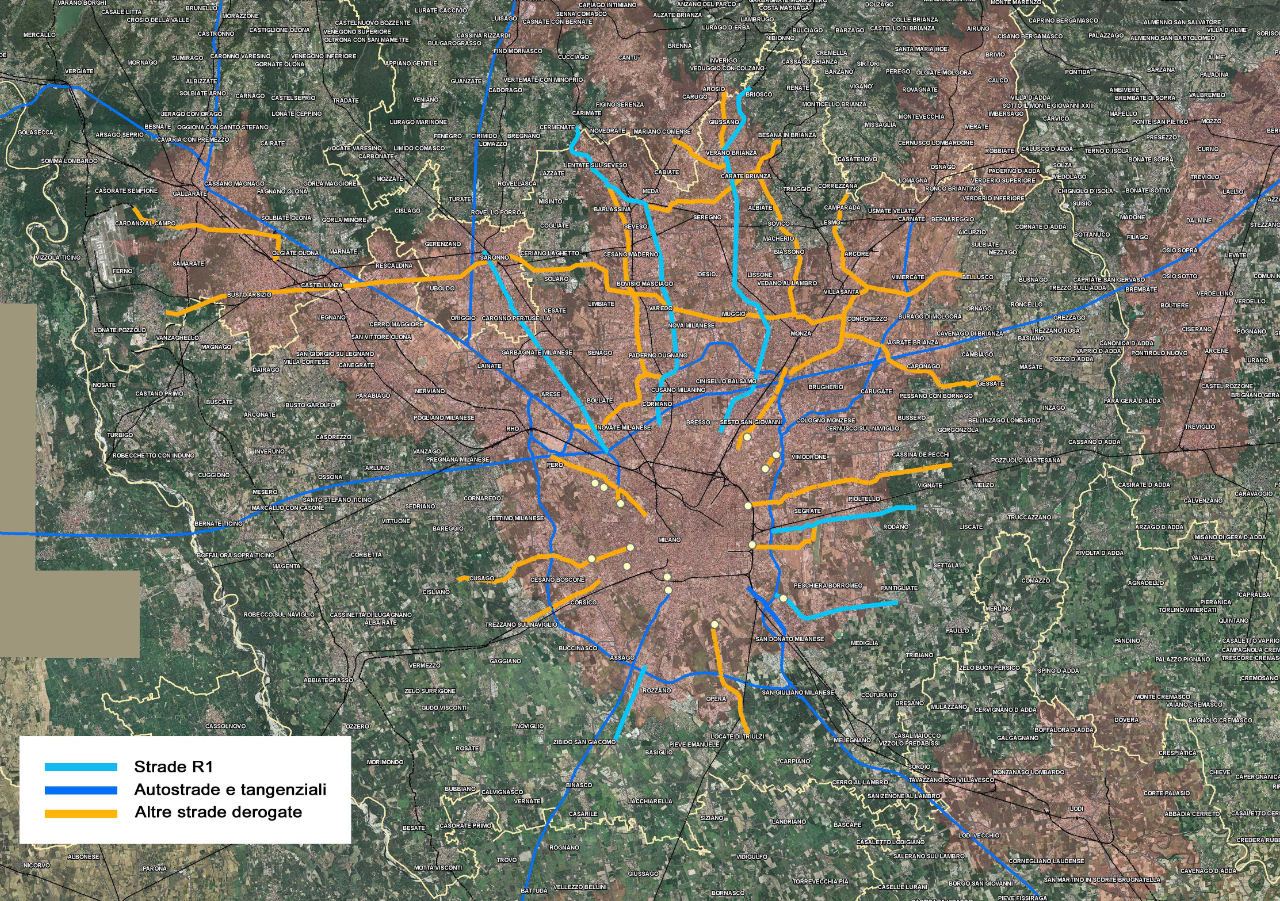 Click for a larger version of the map of Milan paw print detailed
Milan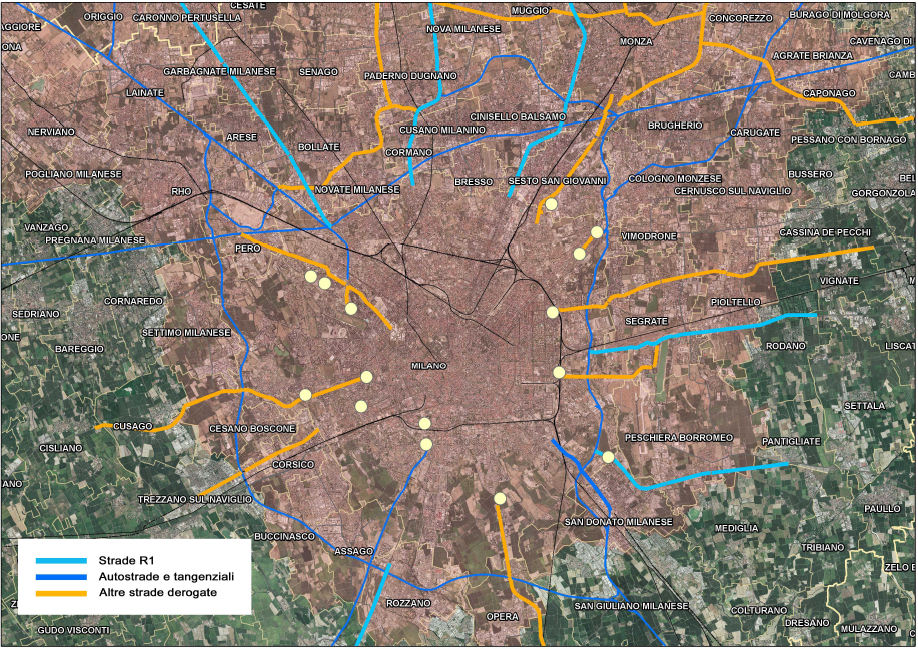 Click for a more detailed map of Milan.
Key: The pink area is covered by the LEZ, the blue and yellow roads are exempted from the LEZ.

Central Milan also has a congestion charge combined with an LEZ (which is tighter than the Lombardia LEZ) 'Area C'. The LEZ in Milan includes the following comunes:
Agrate Brianza, Arcore, Arese, Assago, Baranzate, Barlassina, Bernareggio, Bollate, Bovisio Masciago, Bresso, Brugherio, Buccinasco, Canegrate, Caponago, Carate Brianza, Carnate, Carugate, Cernusco sul Navglio, Cerro Maggiore, Cesano Boscone, Cesano Maderno, Cesate, Cinisello Balsamo, Cologno Monzese, Concorezzo, Cormano, Corsico, Cusano Milanino, Desio, Garbagnate Milanese, Giussano, Lainate, Legnano, Lentate sul Seveso, Limbiate, Lissone, Meda, Milano, Monza, Muggio', Nerviano, Nova Milanese, Novate Milanese, Opera, Paderno Dugano, Parabiago, Pero, Peschiera Borroneo, Pioltello, Pogliano Milanese, Rescaldina, Rho, Ronco Briantino, Rozzano, San Donato Milanese, San Giorgio su Legnano, San Vittore Olona, Segrate, Senago, Seregno, Sesto San Giovanni, Settimo Milanese, Seveso, Usmate Velate, Varedo, Vedano al Lambro, Veramo Brianza, Villasanta, Vimercate, Vimodrone.

Como Province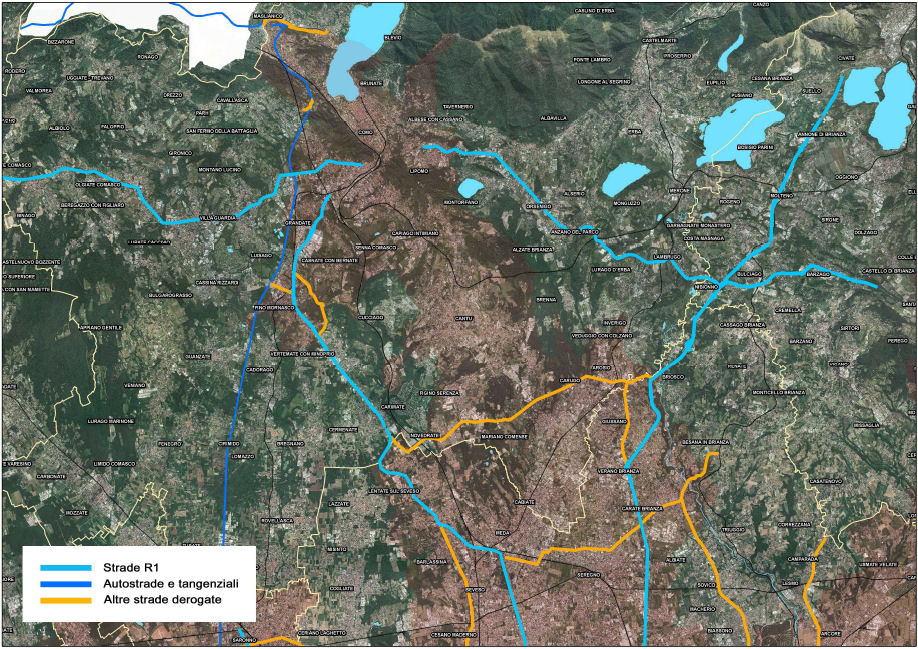 For a more detailed map of Como Province, click here.
The LEZ in Como includes the following comunes:
Arosio, Cabiate, Cantu', Capiago Intimiano, Carugo, Casnate con Bernate, Como, Figino Serenza, Fino Mornasco, Grandate, Lipomo, Mariano Comense, Novedrate, Senna Comasco.
Key for Como Province: The pink area is covered by the LEZ, the blue and yellow roads are exempted from the LEZ.

Como Town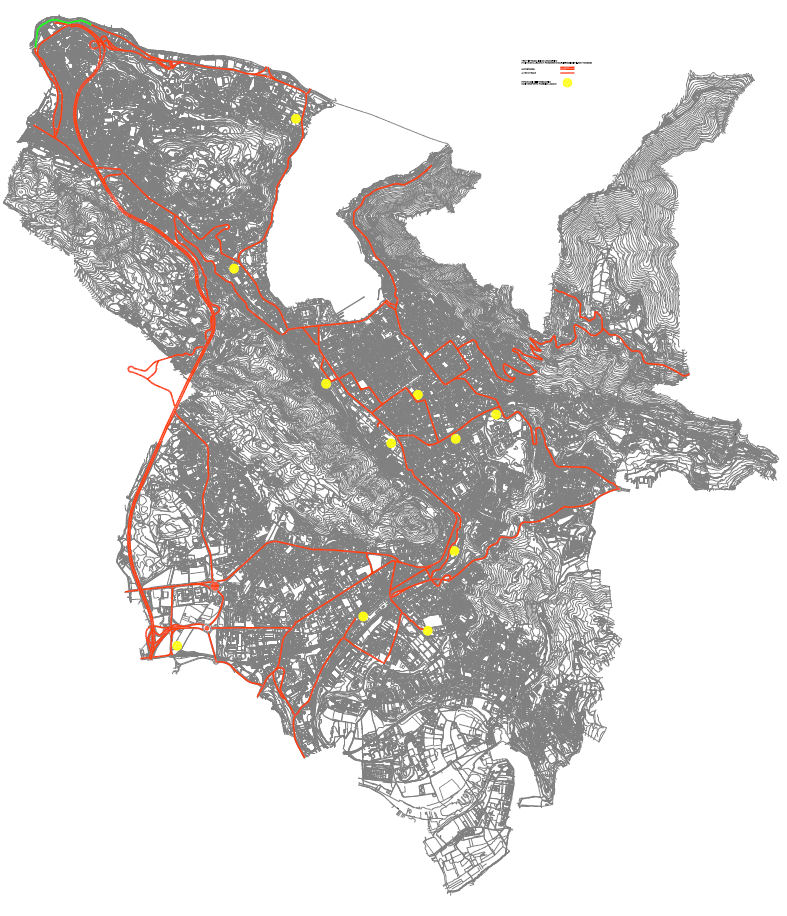 For a more detailed map of Como Town, click here
Key for Como Town: The entire area is an LEZ, the red lines are roads covered exempted from the LEZ (thick red roads are motorways). Yellow dots are the park and ride locations.
For a list of roads exempted from the Como LEZ, see here

Varese Province


The LEZ in Varese includes the following comunes:
Busto Arsizio, Caronno Pertusella, Cassano Magnago, Castellanza, Gallarate, Gerenzamo, Origgio, Samarate, Saronno, Uboldo.
Key: The pink area is covered by the LEZ, the blue and yellow roads are exempted from the LEZ.

Lecco
The LEZ in Lecco, shown on the 'paw print' map includes the following comunes:
Airuno, Brivio, Calco, Cernusco Lombardone, Imbersago, Lomagna, Merate, Montevecchia, Olgiate Molgora, Osnago, Paderno D'Adda, Robbiate, Santa Maria Hoe', Verderio Inferore, Verderio Superiore.

LEZ Road sign

- Country


Has signs similar to this, a banned vehicle sign with the requirements below: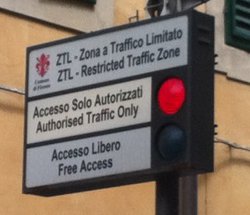 Need to Register?

- Region


None

Foreign Vehicles?

- Region


Are enforced

Retrofitting allowed?

- Country


Yes

Retrofitting Summary

- Country


Retrofitting a certified diesel particulate trap allows entry to the LEZ. For more information see our retrofitting section.

Hours of operation

- Region


Since 15th October 2011 permanent for 2-stroke mopeds and motorcycles – 24 hours a day 365 days a year.
For other vehicles from 15 October to 15 April every year, Monday to Friday from 7.30 to 19.30

To find out when the emergency scheme is in operation, see:
Lombardia real-time PM10 map
Map legend: When an area on the map is red, then the restriction is in place, yellow the restrictions are in effect tomorrow, orange the introduction scheme is in place.
Lombardia real-time air quality map
Lombardia real-time air quality list

Enforcement

- Country


Manual

Penalty

- Region


75-450€ (Regional Law 24/2006, art. 27, paragraph 11)

National Scheme

- Country


There is currently no Italian national scheme, but regional as well as individual city schemes.

Exemptions: Regional
Lombardia exemptions

Local name for an LEZ

- Country


Zona a Traffico Limitato (ZTL) or Limitazioni della circolazione, the general name for all access regulation schemes, also used for Low Emission Zones.

Further Information

- Region


A list of all the municipalities and zones can be found here.
Download a list of exempted roads for all Lombardia LEZs (except Como, which is separate).

Websites for further information
Lombardia Region

The Milan Automobile Club, with information on grants available.

To see which communes are affected you can go to this spreadsheet.

To find out when the emergency scheme is in operation, see:
Lombardia real-time PM10 map-
When the map area is red, then the restriction is in place.
Lombardia real-time air quality map
Lombardia real-time air quality list

City website
Milan city website
Milan Province website website
See also the Milan 'Area C' page here.
Milan Smog alarm
Como city website
Como Province website
Varese city website