Introduction
There is also an access regulation called Bolzano - AR in place.

Dates and details


Bozen:
Petrol: Euro 2
Diesel: Euro 3
2-stroke motorcycles and motorbikes (with and without particle filter)
The driving ban does not apply to the following vehicles:
natural gas
LPG
Hybrid
Electric
hydrogen fuel cell
4-stroke motorcycles
diesel with a particle filter
delivery vehicles diesel Euro 2
From 1 April to 1 October 2-stroke are not banned:
motorcycles minimum standard Euro 2
vehicles and motorbikes registered before 01.01.1971
The standards are also in operation as an "Action Plan" after 30 days of high pollution – see hours of operation for more details.
Brixen:
Petrol: Euro 2
Diesel: Euro 2 (PM)
The schemes are not necessarily always in operation, see hours of operation below.



Vehicles affected
All vehicles, including 2-stroke motorcycles

Scheme Boundary
The low emission zone covers the entire city.

Road Sign
Has signs similar to the picture below, a banned vehicle sign with the requirements below: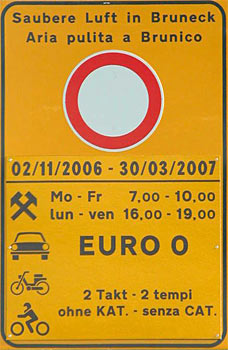 Need to Register?
Locals recieve a sticker indicating the Euro standard of the vehicle. Non-locals are required to show the car documents in case of a police check.
The table below shows the colour of the sticker indicates the traffic restriction for the vehicle with this sticker. The number/word on the sticker indicates the Euro standard.

Sticker

Emissions

Traffic restriction

No sticker

High emission

Euro 0, Euro 1 vehicles, motorcycles & mopeds

Measures from November 2007

High PM emissions

Euro 2 & 3 diesel vehicles without diesel particulate filter (dpf)

All cars Euro 4(PM)

Special measures from November 2007

Regular measures from November 2009

Partially reduced PM emissions

Euro 2, 3, 4 diesel cars with dpf retrofitted

Special measures from November 2009

Low emissions

Euro 2+ Petrol

LPG vehicles

Lorries with full dpf

Diesel cars with factory pdf fitted

All Euro 4+ vehicles

No restrictions

(green, yellow and red respectively)

Very low emissions

Natural gas and electric vehicles

No restrictions


Foreign vehicles affected?
Are enforced, non-locals are required to show the car documents in case of a police check.

Retrofitting allowed?
No

Retrofit Details
There is no retrofit allowed for the LEZs, but they are allowed for the Action Plan.

Hours of operation
In LEZs: Monday - Friday (except bank holidays) from 7:00–10:00 hours and from 16:00–19:00 hours
In pedestrian zones: 24 hours a day 7 days a week.

There are no restrictions for natural-gas-vehicles, LPG-vehicles, hybrid-vehicles, electric-vehicles, hydrogen-fuel-cell-vehicles and 4-stroke motorcycles.

Enforcement
Cameras

Penalty
Using the usual traffic regulations

National Scheme
There is currently no Italian national scheme, but regional as well as individual city schemes.

Exemptions
Bolzano exemptions

Delivery
Loading and unloading is allowed from 06:00 - 10:00 from Monday to Saturday. No permission needed.

Local name for the scheme
Zona a Traffico Limitato (ZTL) or Limitazioni della circolazione, the general name for road restriction, also used for LEZs. The German word Zone mit beschränktem Verkehr (VBZ) is also used in Bolzano/Bozen/Süd Tirol.

Further Information
In Italian; In German
To find out which Euro standard your (Bolzano) vehicle is, see here in Italian or here in German

City website
Bolzano (Bozen) Italian website
Bolzano (Bozen) German website