Tirol
Tirol has various schemes on the A12 motorway to reduce the pollution.
From 1 November 2016 the sectoral driving ban has been tightened to Euro VI.
There is also a motorway LEZ (pre-Euro 2 lorries over 7.5 T), a night-driving ban on pre-Euro 6 lorries over 7.5T, an air quality-based speed limit (100km/h for passenger cars), a night time speed limit (all vehicles) and a ban on overtaking (lorries over 3.5 tonnes). These other schemes are detailed on the pages linked from the menu on the right.
Sectoral driving ban
A ban on the transport of certain goods on the A12 in vehicles over 7.5 tonnes, starting in May 2008.
Since November 2016 the standards for vehicles over 7.5 tonnes has been tightened to Euro 6.
Until 30 April 2017 Euro 5 HGVs are allowed to use the A12.

Vehicles and goods affected
All heavy goods vehicles and tractor trailers with more than 7.5 tonnes maximum weight which transport following goods:
as of 02.05.2008
waste which is listed in the European waste directory (2000/532/EG as amended 2001/573/EG) stones, soil and spoil
as of 01.01.2009
log, wood, and cork
non-ferrous metal and iron ore
motor vehicles and trailers
steel with the exception of reinforcing- and construction steel for the supply of construction sites
marble and travertine
tiles (ceramic)

Area affected

The sectoral driving ban applies to the section of the A 12 Inntal motorway between road kilometers 6,35 in the municipality of Langkampfen and road kilometers 72,00 in the municipality of Ampass, in both directions.
Journeys that will be loaded or unloaded in the core area are exempt (see exemptions and the map below).
Districts within core zone are: Imst, Innsbruck Land, Innsbruck Stadt, Kufstein and Schwaz
Districts within the extended zone in Austria are: Kitzbühel, Landeck, Lienz, Reutte and Zell am See
Districts within the extended zone in Germany are: Bad Tölz, Garmisch-Partenkirchen, Miesbach, Rosenheim (inclusive town) and Traunstein
Joint communities within the extended zone in Italy are: Eisacktal, Pustertal and Wipptal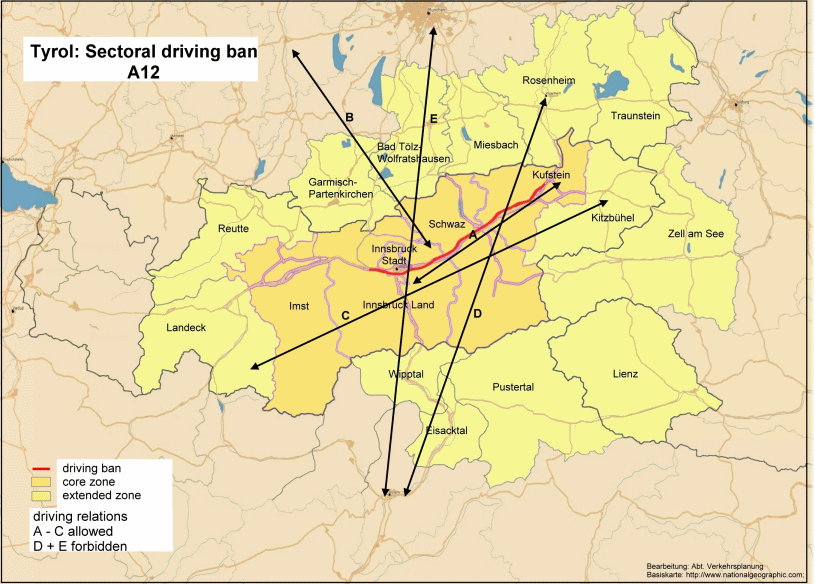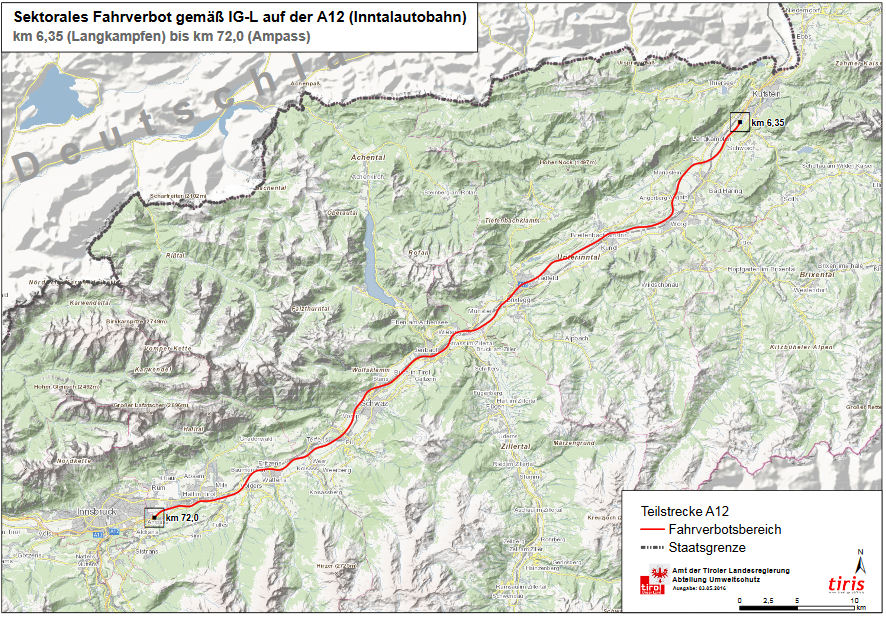 Road Sign:
At the border a general information board informs on the measures. Signs similar to this one.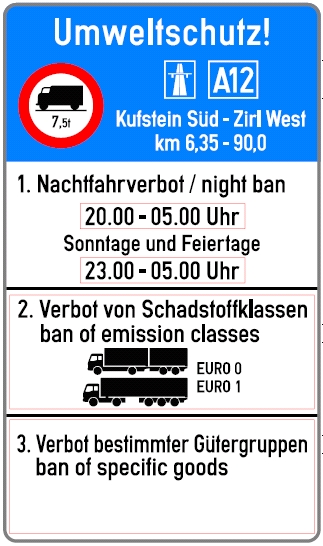 Enforcement
Manual
Registration
No registration is needed. Driver must carry the relevant document that gives the vehicle Euro standard.
From 1st May 2017 the official Austrian sticker, that shows the Euro standard of the vehicle, has to be put on the windshield of the vehicle. For more information about those stickers see here.

Foreign vehicles
Are included the same as Austrian vehicles

Hours of operation
24 hours

Local name
Sektorales Fahrverbot

Exceptions
Journeys with vehicles which will be loaded or unloaded in the core zone (see map above) - source or destination traffic in the core zone
Journeys with vehicles which will be loaded and unloaded in the extended zone - source and destination traffic in the extended zone
Journeys to and from the train terminal of Hall in Tirol in driving towards the West and to the train terminal of Wörgl driving towards the East for the loading of goods, if this can be proved by a respective document
Journeys for which, after an examination, a huge private or public interest exists. This will be decided on a case-by-case basis.

Penalties
maximum 2180€

Further information
Fahrverbote nach IG-L
A German version of the regulation can be downloaded.
National website
Federal Ministry for Transport, Innovation and Technology (BMVIT)

Authority website
Online traffic information system (GIS application gives information on construction sites, traffic restrictions and obstructions of traffic)
Website with the legislation text for download (German)