Introduction


Greater London has five different schemes in place:
The Congestion Charging Scheme (CS) (since February 2003), a Low Emission Zone (LEZ) (since 4th of February 2008), the London Lorry Control scheme (since 1985), the London Coaches scheme and the London Safer Lorry Scheme (since 1 September 2015).



Dates and details
07:00 - 18:00, Monday to Friday.
No charge on weekends, public holidays, between Christmas Day and New Year's Day inclusive, or between 18:00 and 07:00.

Vehicles affected


all vehicles except:
Vehicles with nine or more seats
Motor tricycles
Motor cycles
Vehicles used by disabled people
Ultra Low Emission Vehicles: electric vehicles or cars and vans that emit 75g/km or less of CO2 and meet the Euro 5 emission standard for air quality.


Alt_transport
Options to travel into the city without a car.

Transport for London
Oyster Card

Costs
Depending on the payment method you choose, you pay from £10.50 to £14 a day.

Congestion Charge Auto Pay (CCAP) £10.50/day
This automated payment system will record the number of charging days a vehicle travels within the charging zone each month and bill your debit or credit card each month.

Pay in advance or by midnight on the day of travel £11.50/day
You can pay up to 90 days in advance. So, for example, you could pay for one day, a month or a year. Or you can pay after the journey on the day of travel.

By midnight the following charging day £14/day
You can only pay the following day online or by phone. If you travel on a Friday you have until midnight on the following Monday to pay.

To pay the charge go to the Transport for London website: Paying the Congestion Charge

Scheme Boundary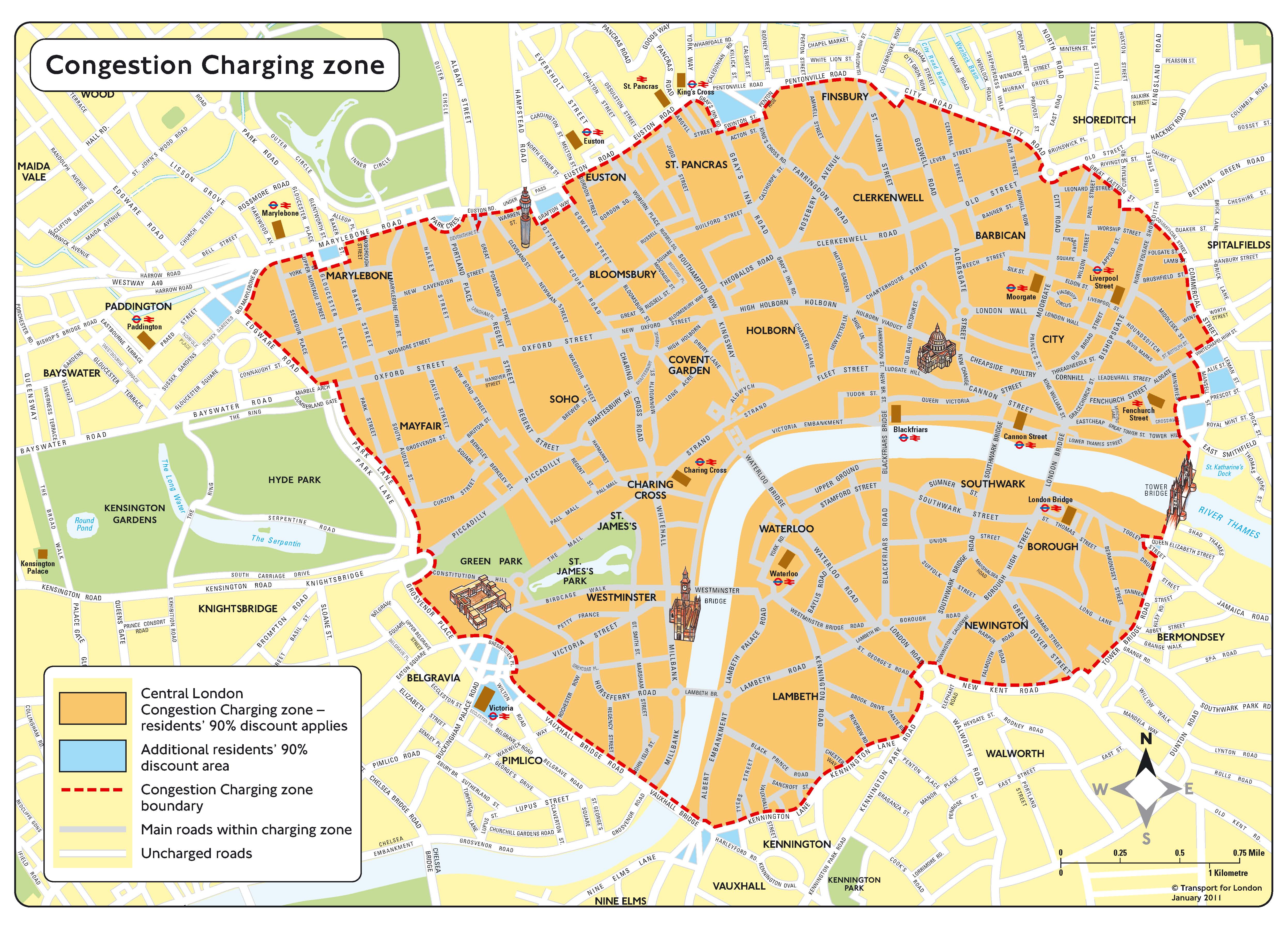 Key
Orange area encircled by red dotted line: Central London congestion charging zone
Red dotted line: Congestion Charging zone boundary
Blue streets: main roads within charging zone
White streets: uncharged roads
For a more detailed map
For an interactive map (TfL's website)
To check the postcode (TfL's website)

Road Sign
Entering the charging zone:
Near or at the start of the zone, you'll see these signs, which also say when the zone operates.



Leaving the charging zone:
As you leave the congestion charging zone you'll see this sign showing the end of the zone.




Need to Register?
WARNING
Unofficial websites are selling the Congestion Charge and can charge a premium on top of what you pay through our official online payment process. Please be aware of numerous websites and their misleading claims.


Please only buy from TfL Transoprt for London - the official site.

Details of how to pay
Pay the charge before entry, or latest midnight, 24:00 the day your vehicle enters the zone.
Possible ways to pay: