Introduction
Rotterdam has had an LEZ in place since 2007.
Rotterdam also has an access regulation in place called Rotterdam - AR.

Dates and details
Amsterdam, Rotterdam and Utrecht regulate vans, see the individual cities.

More information on Euro standards.

The Netherlands have a Low Emission Zone scheme that applies to lorries > 3.5T:

minimum standard is Euro 4


From 1 January 2016 on, Rotterdam has an extended LEZ:
It also includes light duty vehicles.
- Diesel vehicles registered after 1 July 2001.
- Petrol vehicles and LPG vehicles registered after 1 July 1992
For the size of the increased low emission zone, see the map below.
From 1 January 2018:
Diesel vans and cars minimum standard first registered after 2004 (Euro 4).
Petrol vans and cars first registered after 1991 (Euro 1).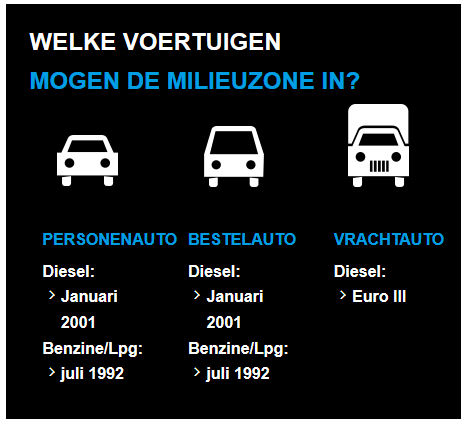 Vehicles affected
The LEZs currently apply to lorries over 3.5 tonnes Gross Vehicle Weight.
Utrecht affects light duty vehicles, Amsterdam and Rotterdam will soon.
In Amsterdam taxis, coaches and mopeds will be affected in the future.

Alternative transport
Rotterdam public transport

Scheme Boundary
The LEZ covers the city centre of Rotterdam, including 'Centraal Station', Centraal Station-kwartier, 'Stadsdriehoek', 'Oude Westen' en 'Cool' district. The area is shown on the following map:-Boundary line for guidance only, click on the map to view the official PDF document. (opens in a new window)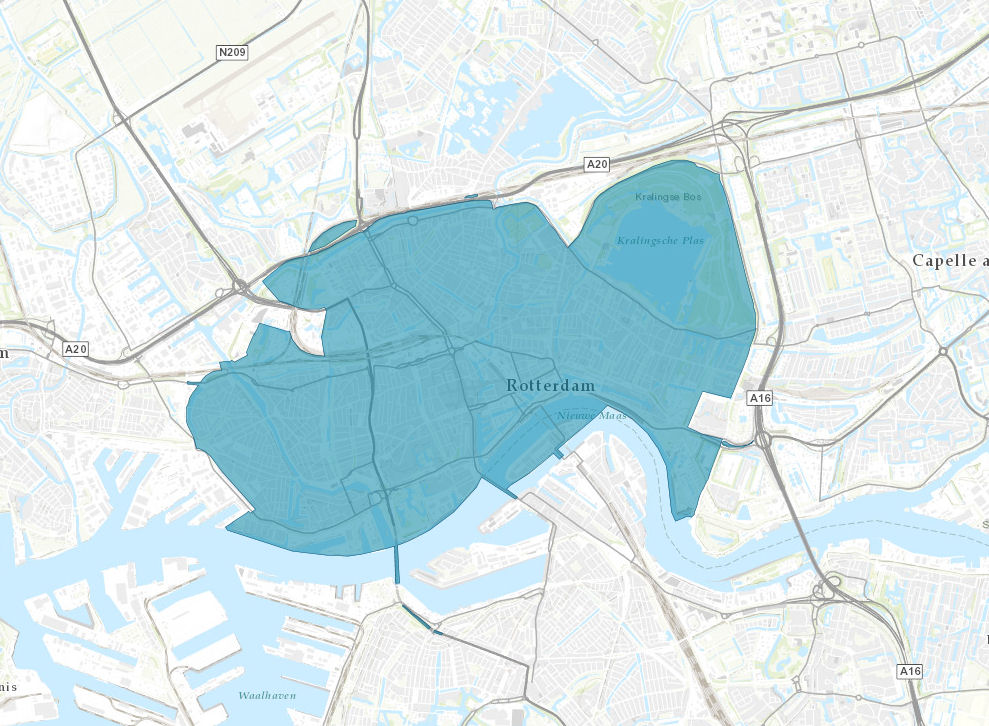 key:
black line: current boundary LEZ
red line: boundary LEZ 1 January 2016

Road Sign
The Dutch LEZ signs are:

| | | |
| --- | --- | --- |
| You are approaching an LEZ: | You are entering an LEZ: | You are leaving an LEZ |
| | | |


Need to Register?
No registration needed, information is taken from the Dutch national vehicle register

Foreign vehicles affected?
Foreign vehicles are not enforced

Retrofitting allowed?
No

Hours of operation
Permanent, 365 days a year

Enforcement
With cameras viewing number plates.

Penalty
A €230 fine.

National Scheme
A National LEZ Covenant signed by Dutch government, municipalities and other stakeholders, whereby all Low Emissions Zones in the Netherlands apply the same Euro standards, as outlined above for lorries.
The national scheme also allows for LEZs applied to light duty vehicles <3.5T from 2013.
The first light duty vehicle LEZ has started 1.1.2015 in Utrecht. To access the LEZ your vehicle must be registered after 1/1/2001.

Exemptions
Netherlands Exemptions

Local name for the scheme
Milieuzone

Further Information
A zipped file with a list of all cities, streets and postcodes of all Dutch LEZ cities (zipped excel list, 1.4MB), last updated 25/11/15. There can be no rights derived from this list.
National website: www.milieuzones.nl
A summary of the impacts of LEZs in the Netherlands can be found the Netherlands air quality impacts page.

City website
Rotterdam city Website
More information on the LEZ Rotterdam