Introduction
The Access Regulation (ZTL) of Parma covers a large part of the historic center.
There is also an access regulation in place called Parma.

Dates and details
During certain times no vehicles are allowed to enter the ZTL.

Vehicles affected
All vehicles, except bicycles and motorbikes.

Alternative transport
Public transport Parma in English

Scheme Boundary


key:
orange area is ZTL 1 daily 07:30 - 19:30
green area is ZTL 2 daily 07:30 - 11.30 and 16:00 - 19:00
blue area is ZTL 3 daily 07:30 - 19:30
yellow area is ZTL 1 permanent 00:00 - 24:00



Road Sign
Has signs similar to this, a banned vehicle sign with the requirements below: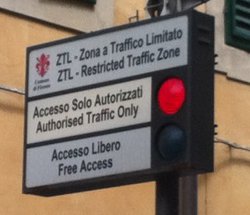 Need to Register?
If you need to enter the ZTL in Parma please call the toll-free number 800 6080001 or get in touch with Infomobility.
| | | | |
| --- | --- | --- | --- |
| ticket | cost | duration | name |
| hours | 5€ | 2 hours | BZ |
| day | 10€ | all day | GZ |
Tickets can be bought at parking meters next to the electronic gates, tabacco stands and at infomobility counters: Front Office Mentant and DUC Sportello Mobilità.

If paid cash, you have to activate the ticket by getting in touch with the gate office before you use them. Instructions on the back of the ticket available.

If you pay by credit card, no activation is necessary as the information will be send to the gate office directly.

Communication with the gate offices:

Tel: 0521-168029

Fax: to 0521-1680290

Email: This email address is being protected from spambots. You need JavaScript enabled to view it.

The following information needs to be provided if you talk to the gate office:

- Type and number of ticket you bought

- License plate number of the car that wants to enter the ZTL

- Day and time of access



Foreign vehicles affected?
Are enforced

Hours of operation
ZTL 1 daily 07:30 - 19:30
ZTL 2 daily 07:30 - 11.30 and 16:00 - 19:00
ZTL 3 daily 07:30 - 19:30

Enforcement
Manual

National Scheme
There is currently no Italian national scheme, but regional as well as individual city schemes.

Exemptions
There are some groups of people/vehicles that are entitled to get a permit to enter Parma city center:
- residents
- parking spot owner
- handicapped
- maintenance
- emergency
- driving school
- journalists
- home delivery of goods
- hotel guests
- people that work odd hours
- people for whom no public transport is available
- school children
- medical
- funerals
- sales agents with bulky goods
- shift workers
- municipality
National exemptions for all ZTL:
Categories stated by law: public transport, vehicles for disabled people with a registered disabled persons badge.

Specific exemptions:
Resident's vehicles, private car park owners, public utilities, hotel guests, vehicles owned by shops or companies inside the ZTL, delivery goods, car sharing, home care, visiting doctors, night-time surveillance, artisans, funeral company, voluntary organizations.

Local exemptions:
We focus on our website on information for people from outside of town. There are also exemptions for local residents, businesses and other operators. Go to the website Accessibilita à centri storici for more detailed information, in Italian.

Tourists who have their hotel in the ZTL are advised to talk to the hotel about the ZTL, to avoid fines.

Special exemptions may be granted, if there is an important need to enter the ZTL when it is in operation. For example loading / unloading, couriers, commercial activities etc. Talk to the local police about it, contact details below.

Delivery
Loading and unloading is allowed at all times for no longer than 30 minutes.

Local name for the scheme
Zona a Traffico Limitato (ZTL) or Limitazioni della circolazione, the general name for all access regulation schemes, also used for Low Emission Zones.

Further Information


For further information about this scheme go to this useful website.

Infomobility

City website