Tirol
Introduction
Tirol has various schemes on the A12 motorway to reduce the pollution.
To drive on the motorway with a > 7.5 tonne lorry:
The lorry must be at least Euro 3.
To drive at night, or to transport certain goods, the lorry must be Euro 6.
There are also speed and overtaking restrictions.
Further information is below, or from the links on the right:
Ban on overtaking
Ban on overtaking for heavy goods vehicles over 7.5 tonnes at the A12 Inn Valley motorway (0km - 80km) and the A13 Brenner motorway as well as other driving restrictions detailed below has been in operation since 21st June 1999.

Vehicles affected
Heavy goods vehicles over 7.5 tonnes maximum weight.

Restrictions
Ban on overtaking for heavy goods vehicles over 7.5 tonnes at the A12 Inn Valley motorway (0km - 80km) and the A13 Brenner motorway
Additional driving restrictions on specific sections along the A13 Brenner motorway (marked with the appropriate road sign):
a) driving ban for heavy goods vehicles over 7.5 tonnes on the third lane from the
b) driving ban for heavy goods vehicles over 7.5 tonnes on the second lane from the right
c) driving ban for heavy goods vehicles over 3.5 tonnes on the third lane from the right

Area affected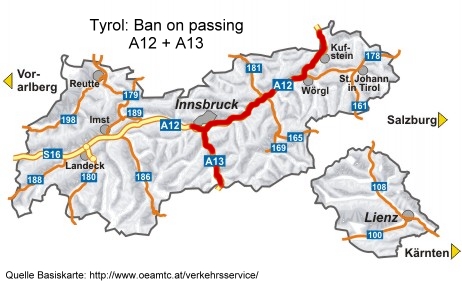 The A12 motorway on the lower Inn Valley between km 0 and km 80 and sections along the A13 motorway.

Road sign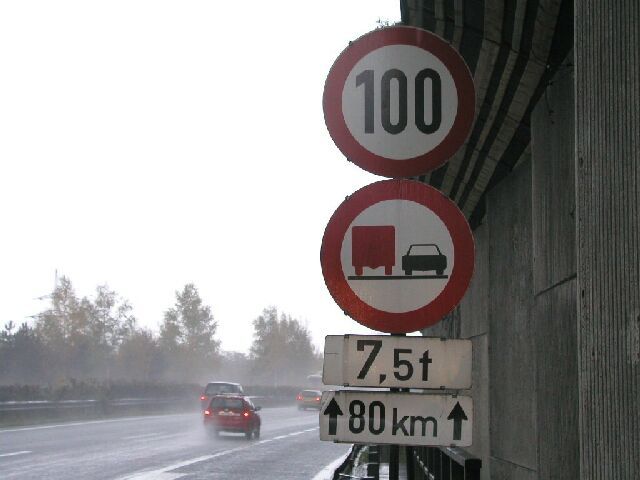 Sign for ban on passing with the respective kilometres

Registration
No registration.

Foreign vehicles
Are included the same as Austrian vehicles

Hours of operation
24 hours

Local name
Überholverbot

Exceptions
None

Penalties
Maximum 726 €

Further information
Fahrverbote nach IG-L

Authority website
Further information on the sectoral lorry ban
Online traffic information system (GIS application gives information on construction sites, traffic restrictions and obstructions of traffic)


National website
Federal Ministry for Transport, Innovation and Technology (BMVIT)