Introduction
The three regional low emission zones of Stuttgart, Ludwigsburg and Leonberg now all join up, to make, in practice, a combined LEZ.

The Ludwigsburg and area regional LEZ includes Ludwigsburg, Pleidelsheim, Ingersheim, Freiberg am Neckar and covers also Kornwestheim, Patonville & Remseck, Asperg, Möglingen, Tamm, Bietigheim-Bissingen, Markgröningen.

The regional LEZ for Leonberg includes the towns of Ditzingen, Gerlingen, Hemmingen, Korntal-Münchingen and Schwieberdingen

The Stuttgart LEZ borders both the LEZs above.

Due to potential confusion, please note that there are LEZs in Baden-Württemberg in both Freiburg and Freiberg am Neckar (note the U or E in the spelling, too).


Dates and details
Baden-Württemberg LEZs run under the following standards:
* From 1st January 2013 onwards
o Diesel Euro 4(PM), Euro 5(PM), Euro 6(PM) and Petrol Euro 1 / Green Sticker.

Vehicles affected
All diesel vehicles, and petrol vehicles without a closed loop catalytic converter (Euro 1 or equivalent).
All vehicles must have a sticker - see National Scheme

Scheme Boundary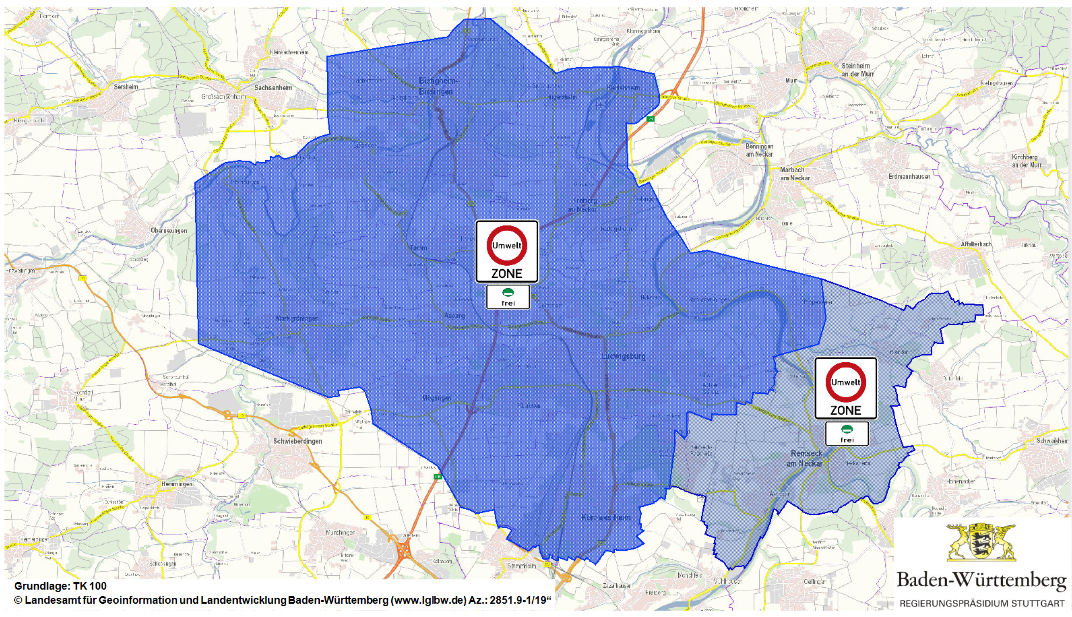 Key:
dark blue area: Ludwigsburg and area LEZ
light blue area: Remseck am Neckar; new part of Ludwigburg and area LEZ

From 2.12.13 the LEZ has been extended to cover the neighbouring towns: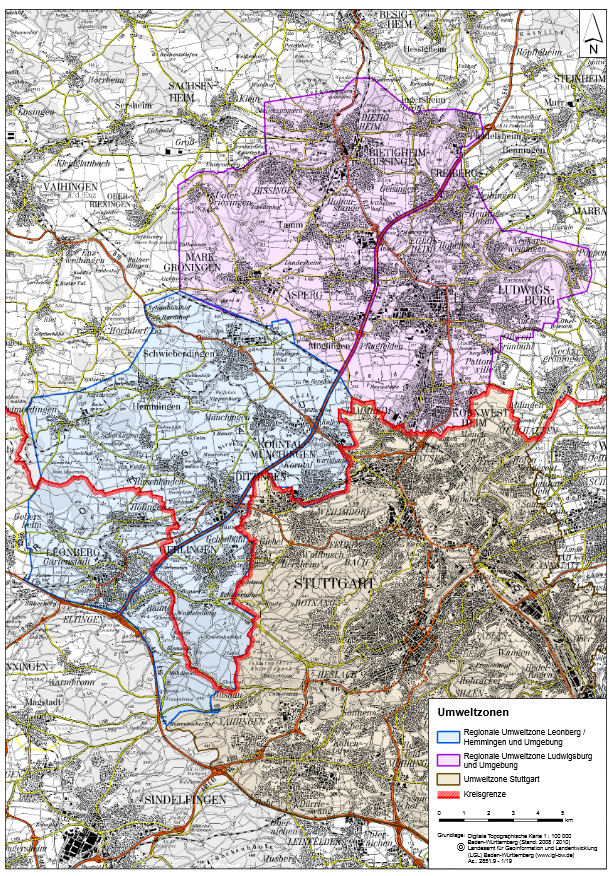 Key:
blue area: Umweltzone Leonberg, Hemmingen and area
pink area: Umweltzone Ludwigsburg and area
yellow area: Umweltzone Stuttgart

Road Sign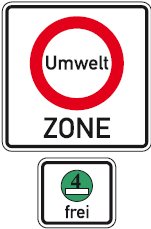 Need to Register?
A sticker must be bought before driving into the zone and displayed in the windscreen - see National Scheme. This sticker is then valid for all LEZs in Germany.
Proof of emissions standard (given on German vehicle papers) is needed to purchase the sticker. Germany also accepts the stickers from Czech Republic.

Buying German LEZ stickers
Stickers for German and foreign vehicles can be purchased from the vehicle registration authorities, authorised local garages, vehicle test organisations like TÜV, DEKRA, or some websites.



LEZ city authorities and other cities usually sell LEZ stickers. In person from city offices they cost €5, online they can cost more, and if they need to be posted abroad it can sometimes add a little to the cost. Buy German LEZ stickers from Berlin city, in English or German (cost 6€), and the sticker is posted to you.

Stickers can also be bought online in Deutsch, Česky, Francis, English, Italiano, Polki, Türkçe from TÜV-SÜD. Cost is and is posted to you. €9.90 from TÜV-NORD if the vehicle is registered in Germany, €17.50 if the vehicle is not registered in Germany.

Please note:
Please allow enough time for the sticker to reach you. At times of high demand to foreign addresses it can take up to a few weeks.
Please also note, for the lowest cost stickers, please buy stickers from the official sources linked to on this website. There are both fake sites and sites that charge up to 5 times as much as the official websites.

Foreign vehicles affected?
Yes.
Foreign vehicles are also enforced and are required to buy a sticker. Foreign vehicles emissions are taken primarily by vehicle age, as show in in this table.

Retrofitting allowed?
Yes

Retrofit Details
German vehicles need to have a particulate trap certified on behalf of the German government. Local garages can advise on which filters should be used and this page. allows you to find out what particulate filter your German registered vehicle can use - now for heavy as well as light duty vehicles. See also our retrofitting section.

Hours of operation
Permanent, 365 days a year.

Enforcement
Manual enforcement by police of sticker in the windscreen. Even if the vehicle meets the emissions standard, if there is no sticker in the windscreen, the vehicle is illegal in the zone.

Penalty
The penalty for driving or parking your vehicle without valid sticker is 80€


National Scheme
A National Framework sets out the Emissions Classes and main rules that can be used by cities for LEZs in Germany. The cities or regions then decide whether, where and when to do a LEZ, and what emissions standards will be required.
Windscreen stickers (plakette) show the vehicle Euro standard. To enter the LEZ, the vehicle must have the sticker required by the LEZ standard (usually Green Sticker). See below for the different windscreen stickers.


Emissions class

1

2

3

4

Sticker

No Sticker

Requirement for diesel vehicles

Euro 1 or worse

Euro 2 or

Euro1 with particulate filter

Euro 3 or

Euro 2 with

particulate filter

Euro 4, Euro 5, Euro 6

or

Euro 3 with particulate filter

Requirement for petrol vehicles

Without a catalytic converter

Euro 1 or better

pre Euro 1 with a catalytic converter fitted
For foreign vehicles without a Euro standard on the vehicle papers, the following table is valid.
Euro standard

Emissions Group

Vehicle first registered (light duty)

Vehicle first registered (lorry duty)

Sticker

Diesel

Euro 1 or older

1

before 01.01.1997

before 01.10.1996

None

Euro 2

2

01.01.1997 to 31.12.2000

01.10.1996 to 30.09.2001

Red

Euro 3

3

01.01.2001 to 31.12.2005

01.10.2001 to 30.09.2006

Yellow

Euro 4 or better

4

from 01.01.2006

from 01.10.2006

Green

Petrol and Gas

pre Euro 1 (without Catalyst)

1

before 01.01.1993

None

Euro 1 und better

4

from 01.01.1993

Green
Electric vehicles without a combustion engine get a Green Sticker

Stickers similar to those used in Germany, and mutually accepted, exist also in the Czech Republic.

Exemptions
Germany Exemptions

Local name for the scheme
Umweltzone

Further Information
Germany LEZ website in English

City website
Ludwigsburg region website
Asperg city website
Bietigheim-Bissingen city website
Freiberg-am-Necker city website
Ingersheim city website
Kornwestheim city website
Ludwigsburg city website
Markgröningen city website
Möglingen city website
Pleidelsheim city website
Tamm city website