Tirol
Tirol has various schemes on the A12 motorway to reduce the pollution. The permanent 'motorway LEZ' has been in place since 1 January 2007 and affects pre-Euro 3 lorries over 7.5 tonnes. It is detailed below.
From 1 November 2016 the sectoral driving ban has been tightened to Euro VI.
There is also a night-driving ban on pre-Euro 6 lorries over 7.5T, a sectoral driving ban (lorries over 7.5 tonnes), an air quality-based speed limit (100km/h for passenger cars), a night time speed limit (all vehicles) and a ban on overtaking (lorries over 3.5 tonnes). These other schemes are detailed on the pages linked from the menu on the right.
Motorway LEZ (lorries >7.5 tonnes)
Vehicles affected
Heavy goods vehicles over 7.5 tonnes
Dates and Standards
The following vehicles are not allowed on the A12 permanently between km 6,35 and 90,00:
Euro 0, 1 and 2 all Heavy Goods Vehicles over 7.5 tonnes maximum weight (NOx-emissions of more than 7.0g/kWh)
From 31. December 2017 Euro 0, 1, 2 and 3
From 31. December 2022 Euro 0, 1, 2, 3 and 4
Euro 0, 1 and 2 Heavy Goods Vehicles with trailers and tractor-trailers over 7.5 tonnes maximum weight (NOx-emissions of more than 5.0g/kWh)
National Scheme:
No. A national urban LEZ framework is being developed.
Retrofitting allowed?
No
What is the LEZ boundary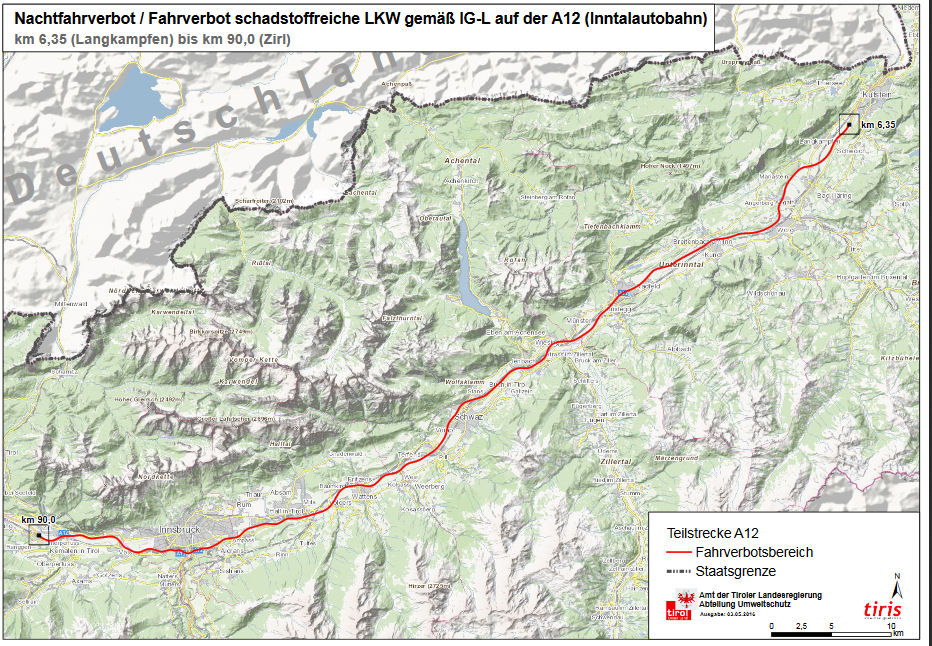 The LEZ is valid on the section of the A 12 Inntal motorway between road kilometers 6,35 in the municipality of Langkampfen and road kilometers 90,00 in the municipality of Zirl, in both directions.

Road sign:
At the border a general information board informs on the measures. Signs similar to this one.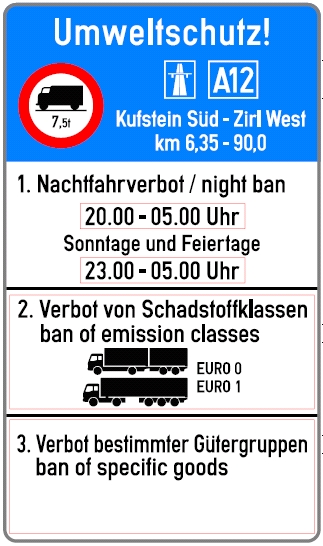 Enforcement
Manual. Driver must carry the relevant document that gives the vehicle Euro standard.
Registration
Driver must carry the relevant document that gives the vehicle Euro standard.
If the vehicle was registered first before 1st October 2001 the following documents are suitable:
- COP document
- registration documents, if these show what the NOx emission standard your vehicle has
- An original manufacturer's certificate with chassis number and engine number, which allows a clear identification of the vehicle
From 1st May 2017 the official Austrian sticker, that shows the Euro standard of the vehicle, has to be put on the windshield of the vehicle. For more information about those stickers see here
Foreign vehicles
Are included the same as Austrian vehicles
Hours of operation
24 hours a day, 365 days a year
Local name
Fahrverbot für schadstoffreiche Schwerfahrzeuge, Fahrverbote nach IG-L or IG-L driving ban
Exceptions
Journeys to and from the train terminal of Hall in Tirol, driving towards the West and the train terminal of Wörgl driving towards the East for the loading of goods, if this can be proved by a relevant document.
Penalties
Maximum 2180€
Further information
Fahrverbote nach IG-L
A German version of the regulation can be downloaded.

Authority website
Further information on the LEZ Tirol.
Online traffic information system (GIS application gives information on construction sites, traffic restrictions and obstructions of traffic).
Website with the legislation text for download (German).