Introduction
Amsterdam introduced a Low Emission Zone on the 9th October 2008.

Amsterdam's goal for the future is an emission-free city by 2025. Hence electric vehicles are promoted.

Dates and details
By January 1, 2017 no longer allowed to enter the LEZ:

* commercial vehicles (N1 vehicles) with a diesel engine built before 1-1-2000 (approx. Euro 2). Meaning the minimum standard for commercial vehicles will be Euro 3.

By January 1, 2018 no longer allowed to enter the LEZ:

* mopeds built before 1-1-2011
* diesel taxis built before 1-1-2009
* coaches built before 1-1-2005

Amsterdam has a website to help coach drivers and operators find parking locations in the city.
For all drivers, there is also information on roadworks and traffic restrictions as well as suggested alternative routes.
The website is available in Dutch, English and German.


Vehicles affected
The LEZs currently apply to lorries over 3.5 tonnes Gross Vehicle Weight.
Utrecht affects light duty vehicles, Amsterdam and Rotterdam will soon.
In Amsterdam taxis, coaches and mopeds will be affected in the future.

Alternative transport
Amsterdam public transport

Scheme Boundary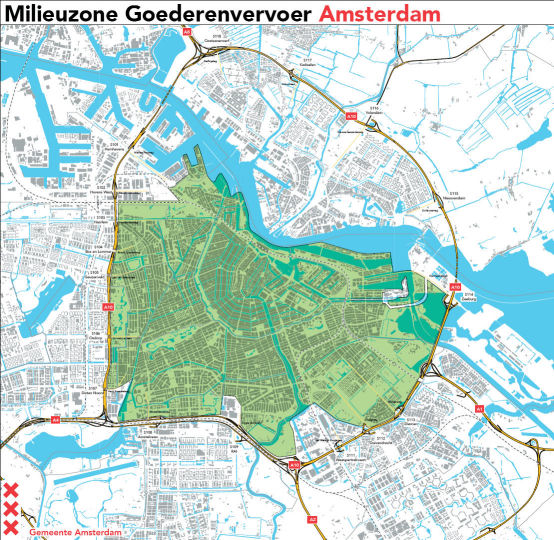 key: green shaded area is the LEZ

The LEZ for the motorcycles does have a slightly different map. See here.

Road Sign
The Dutch LEZ signs are:

| | | |
| --- | --- | --- |
| You are approaching an LEZ: | You are entering an LEZ: | You are leaving an LEZ |
| | | |


Need to Register?
No registration needed, information is taken from the Dutch national vehicle register

Foreign vehicles affected?
Foreign vehicles are not enforced

Retrofitting allowed?
No

Hours of operation
Permanent, 365 days a year

Enforcement
Camera enforced

Penalty
There will be a penalty but the amount isn't known yet.

National Scheme
A National LEZ Covenant signed by Dutch government, municipalities and other stakeholders, whereby all Low Emissions Zones in the Netherlands apply the same Euro standards, as outlined above for lorries.
The national scheme also allows for LEZs applied to light duty vehicles <3.5T from 2013.
The first light duty vehicle LEZ has started 1.1.2015 in Utrecht. To access the LEZ your vehicle must be registered after 1/1/2001.

Exemptions
* commercial vehicles (N1 vehicles) that run on petrol, gas or electricity.

* medical vehicles whose adaption would cost more than 500€ can apply for an exemption here

Netherlands Exemptions

Local name for the scheme
Milieuzone

Further Information
A zipped file with a list of all cities, streets and postcodes of all Dutch LEZ cities (zipped excel list, 1.4MB), last updated 25/11/15. There can be no rights derived from this list.
National website: www.milieuzones.nl
A summary of the impacts of LEZs in the Netherlands can be found the Netherlands air quality impacts page.A list of streets and postcodes for Amsterdam (zipped txt-file 1MB).

Amsterdam private hire car
Amsterdam taxi
Amsterdam tourist coaches
Amsterdam motorcycles
Amsterdam overview & details of schemes
For more information about subsidy for electric vehicles go here.

City website
Amsterdam city website
City leaflet (in Dutch).
City infographic (in English).