Tirol
Tirol has various schemes on the A12 motorway to reduce the pollution. The air quality-based speed limit (from 17. November 2014) is one of the schemes. It is detailed below.
From 1 November 2016 the sectoral driving ban has been tightened to Euro VI.
There is also a motorway LEZ (pre-Euro 2 lorries over 7.5 T), a night-driving ban on pre-Euro 6 lorries over 7.5T, a sectoral driving ban (lorries over 7.5 tonnes), a night time speed limit (all vehicles) and a ban on overtaking (lorries over 3.5 tonnes). These other schemes are detailed on the pages linked from the menu on the right.
Air quality-based speed limit
When air pollution is high the speed limit for passenger cars is reduced from 130km/h to 100km/h. This has been in operation since the 1st November 2007.

Vehicles affected
Passenger cars

Requirements
When certain threshold values for air pollution and traffic volume are exceeded the speed limit for passenger cars is reduced from 130km/h to 100km/h.

Area affected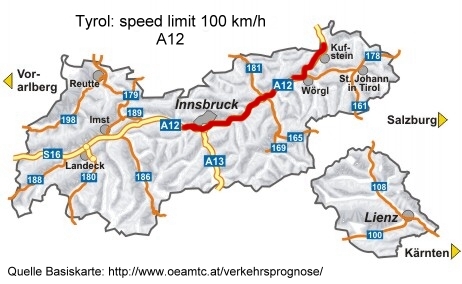 The A12 motorway on the lower Inn Valley between Kufstein (km 6) and Zirl (km 90
The redevelopment area (Sanierungsgebiet) covers an 100 m wide stripe along the A12 lower Inn Valley from the German border (km 0,00) in the North East until the community area of Zirl in the west.

Road sign
Indicated on the overhead variable road signs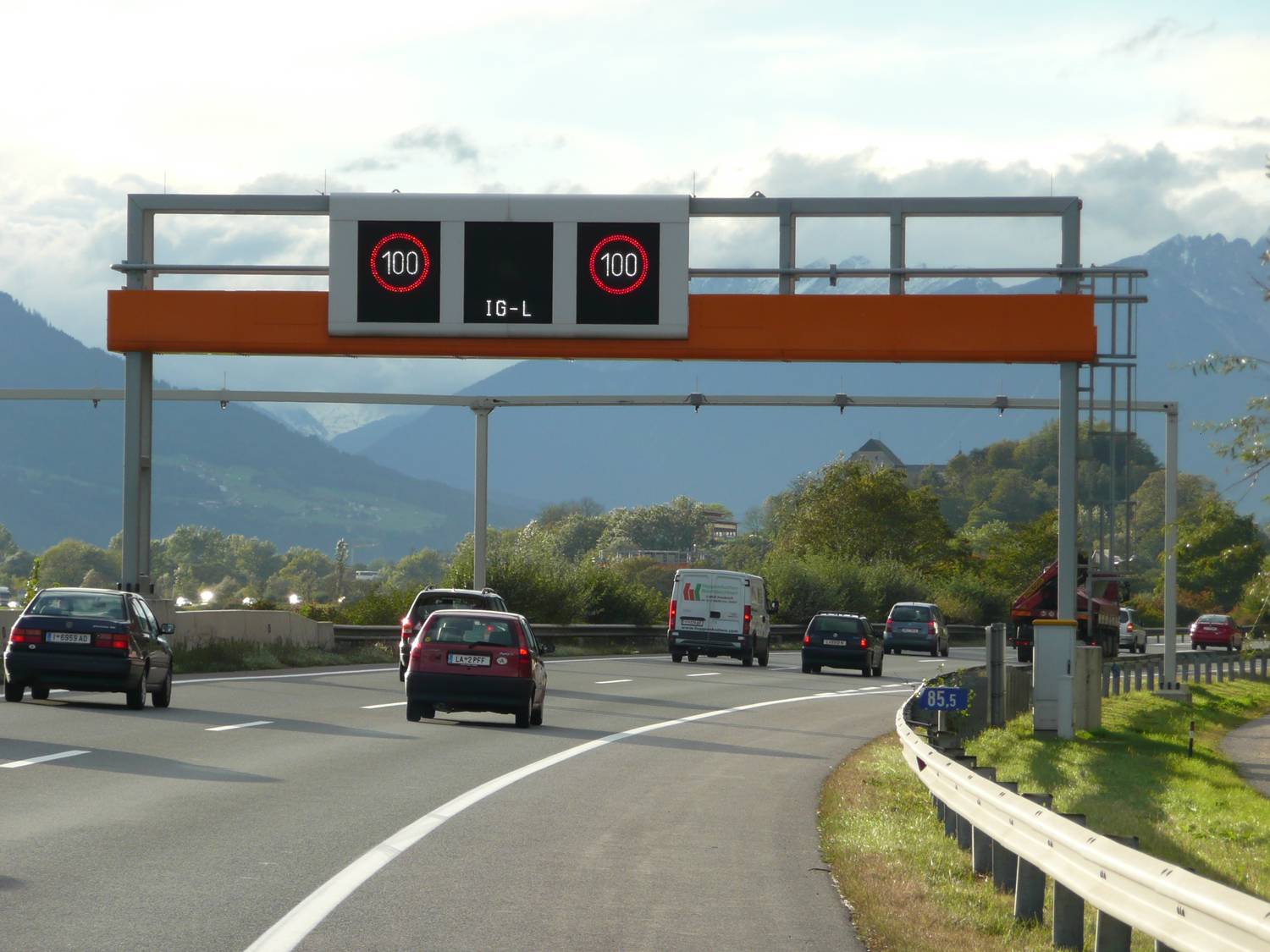 Registration
No registration.

Foreign vehicles
Are included the same as Austrian vehicles

Hours of operation
24 hours
Local name
Immissionsgesteuerte Geschwindigkeitsbeschränkung

Exceptions
None

Penalties
Maximum 2180€

Further information
Fahrverbote nach IG-L
A German version of the regulation can be downloaded.

Authority website
Online traffic information system (GIS application gives information on construction sites, traffic restrictions and obstructions of traffic)
Website with the legislation text for download (German)

National website
Federal Ministry for Transport, Innovation and Technology (BMVIT)
---