Introduction
Gent will implement a Low Emission Zone 1st January 2020.

Dates and details
Minimum standard - from 1 January 2020 on:
diesel Euro 5; Euro 4 can enter after paying
petrol/CNG Euro 2

- from 1 January 2025 on:
diesel Euro 6; Euro 5 can enter after paying
petro /CNG Euro 3

Vehicles affected
All vehicles with four wheels or more.

Costs
These cars can only enter the LEZ after paying:

- From 1/1/2020: diesel vehicles Euro 4
- From 1/1/2025: diesel vehicles Euro 5*
The costs are not defined yet.

Type of restriction
LEZ

Alternative transport
Gent public transport

Scheme Boundary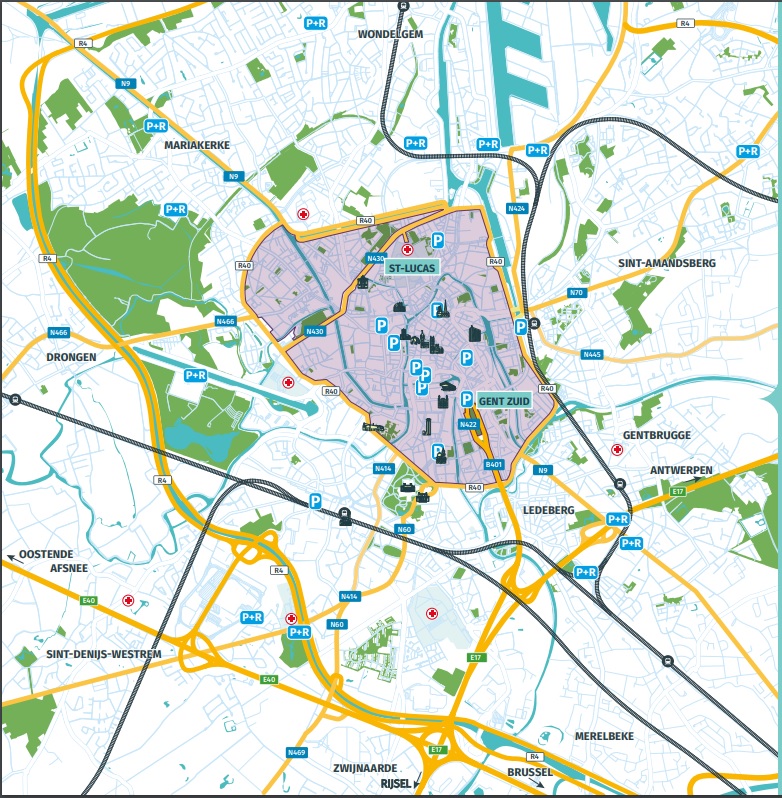 key: blue shaded area is the LEZ

Road Sign
Will probably look similar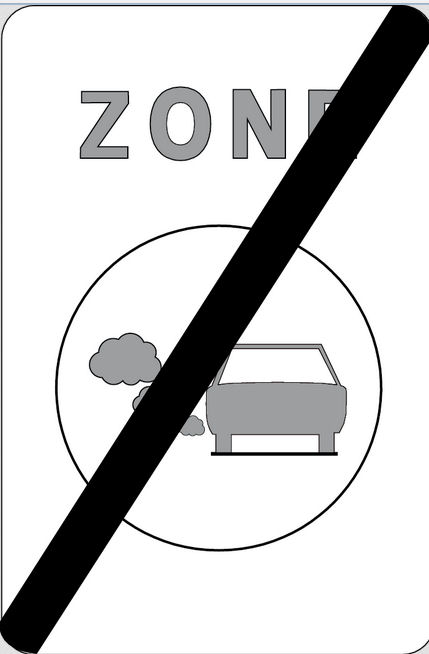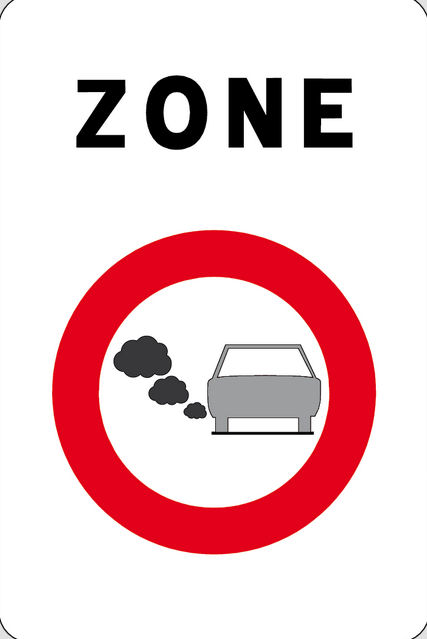 Need to Register?
Belgian vehicles: No
Foreign vehicles and perhaps certain other vehicles: Yes.
Your vehicle must be on the Belgian national vehicle register with the appropriate details. No further details available yet for Gent. We will give any further details here when they are available.

Foreign vehicles affected?
Yes, are affected.

Retrofitting allowed?
Yes.

Retrofit Details
Euro 3 diesel vehicles with a particulate filter can enter until 2019 (after registering).
More information on particle filters
Some Flemish vehicles can get financial support for fitting diesel particulate filters.


Hours of operation
Permanent.

Enforcement
Cameras

Penalty
no information yet

National Scheme
There is a flemish scheme that cities can use to implement a LEZ.


| | | |
| --- | --- | --- |
| Petrol/CNG | Diesel | Dates |
| Euro1/I | Euro 4/IV or Euro 3/III+DPF | Until 31.12.2019 |
| Euro2/II | Euro5/V | from 1.1.2020 to 31.12.2024 |
| Euro3/III | Euro6/VI | from 1.1.2025 to 31.08.2027 |
| Euro3/III | Euro 6d-temp/VI | from 1.9.2027 on |
| Euro4/IV | Euro 6d/VI | from 1.1.2028 on |


Exemptions
The following vehicles can always enter the LEZ without registration if they have a Belgian licence plate:
- electric vehicles
- plug-in hybrid vehicles with a maximum CO2 emission of 50g/km
- hydrogen-powered vehicles
- vehicles of handicapped people
- vehicles monitoring, control and maintenance infrastructure and facilities public interest and priority vehicles - petrol, LPG or natural gas vehicle with minimum standard Euro 1
- diesel vehicles with minimum standard Euro 4
- diesel cars with Euro norm 3, with a filter for which a Flemish premium was applied for
- agricultural vehicle (emission standard IIIa, IIIb and IV)
- electric vehicles
- hydrogen-powered vehicles
- plug-in hybrid vehicles
- vans for the transport of persons with disabilities (list based on Decree 12/21/2012)
- emergency services
- army vehicles
- oversized transports that are authorised by the authority with a special permit

In addition, vehicles that do not meet the emissions requirements may enter the LEZ up to 8 times a year with a LEZ day pass.

Local name for the scheme
Lage-emissiezone

Further Information
Leaflet LEZ Gent
GENT INFO
Tel.: 09 210 10 10
email:

This email address is being protected from spambots. You need JavaScript enabled to view it.


www.stad.gent/lage-emissiezone

City website
Gent city website
More information on low emission zones in Flanders